UV lamp with 8W germicidal tube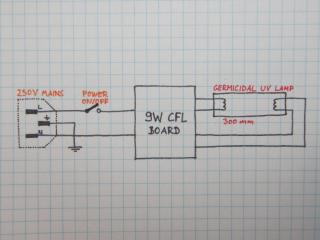 ---
Purpose
For some purposes, a short-wave [link?:ultraviolet] light is useful to have available. After a worn out but still alive germicidal tube
was obtained, it was decided to build such source.
See also UV lamp with 5-watt LED
.
---
Construction
Tube
The tube is a germicidal tube from a water filtering machine, the 300mm T5
type, with rated power of 8 watts, with bi-pin connector
s. Judging from the smell of ozone in its vicinity it produces both the germicidal 253.7 nm and the ionizing ozone-generating 185 nm radiation (some germicidal tubes are coated to filter the latter out).
Ballast
The tube requires a ballast
. For the sake of simplicity and cost, a control board from a deceased (and from a recycle-bin salvaged) compact fluorescent lamp
with similar power rating. (The donor lamp was 9 watts, it was guessed that the slight overloading of the tube should not have way too detrimental effect.)
Several donor lamps were disassembled until one with broken filament in the tube was found; it was reasoned that such lamp will be likely to have intact electronics.
The board was removed from the donor lamp. The filament outputs were attached to the germicidal tube. The assembly was tested using the isolated mains power supply
; at such low power the inherent output current limitation of the power supply is not detrimental.
The ignition of the tube is virtually instant. Full output is reached within seconds.
Mechanical assembly
A plastic box was chosen for the housing of the ballast board. Holes were cut for the mains switch, the tube assembly, and the IEC power connector.
For mechanical protection and to partially act as a light reflector, the tube is halfway covered with a length of aluminium U-profile, 1.5 mm thick, 10mm high and 20mm wide. The tube external diameter of 16 mm perfectly fits the inner width of the profile, 17 mm. The ends of the tube are secured in place with shorter U-profiles of matching shape, attached with two M3 bolts. Wires for the far end of the tube are led along the edges of the profile, and held in place with kapton tape. Small pieces of softer, fibrous material were added to the edges of the profile to hold the tube centered and protect it against vibrations.
For attachment of the bipin pins, female pins from a Molex connector of suitable size were used. Heat-shrink tube insulation was added for short circuit protection.
Due to lack of suitable mountpoints, the ballast board is held in place with strips of double-sided foam tape.
For safety, the aluminium holder is connected to the safety ground pin of the mains connector.
---
Images
| | | | |
| --- | --- | --- | --- |
| Bottom side | Top side | Side view | Side view |
| Tube end | Tube end | Power side | Power side |
| Power side | Tube end, disassembled | Tube end, disassembled | Tube end, power side |
| Tube end, power side | Tube end, power side | Tube connection | Tube connection |
| Tube connection | Tube connection | Inside view | Inside view |
| Inside view | Inside view | Mains wiring | Tube lighted up |
| Tube lighted up | Tube lighted up | Tube lighted up | Tube lighted up, uranium-glass marbles |